I'm very lucky to know this beautiful person known as Maxayn Lewis. I'm even more delighted to let you know that the original members of Maxayn are currently recording new material for a brand new album (hopefully to be completed this year).
Albums (from the 70's):
Maxayn (1974)
Now:
About Maxayn (from her new MySpace page)
"There are singers and then there are Vocal Architects. Maxayn Lewis is the latter - not only a coveted session and touring vocalist but a passionate and conscientious instructor and coach for people in all walks of life to use their voices to their maximum capacity. Just call it "The Max Factor!"
The resume of Maxayn Lewis is an impressive one that includes recording with artists ranging from Dionne Warwick, Diana Ross and Celine Dion to Michael Jackson and Madonna. She has toured with Quiet Storm greats Brenda Russell and Gino Vannelli, jazz legend Les McCann and renowned blues man Bobby "Blue" Bland, as well as many superstars in the Japanese pop world such as Omega Tribe, Toshinobu Kubota, Anri, Akina Nakamori, Sanno Motoharu and Namie Amuro.
Maxayn (pronounced max-ann - the "y" is silent) grew up in Tulsa, Oklahoma, a region renowned for producing great musicians - from rocker Leon Russell to funk masters the GAP Band (both with whom she has worked). She came upon her vocal gifts naturally from her mother, C. Lorene Parker, who was a fantastic gospel singer but, more practically, a chef by trade. Maxayn cites her as well as the incomparable Nina Simone as major inspirations. She sang in a classical conservatory and later honed her chops in jazz nightclubs and the particularly demanding Marshall amplified music of rock clubs.
Her big break arrived when the legendary Tina Turner blew into town and recruited her for a world tour. On this tour, Maxayn wowed critics and musicians alike including English rock royalty David Bowie and Mick Jagger, who referred her for gigs. Working with Tina required Maxayn to move to Los Angeles where her career truly took flight in the realm of recording sessions for not just pop music but also film scores and commercials for radio and television. It is this multi-faceted professional music background that she called upon when she carved out another niche for herself as a vocal instructor. Who better than someone who not only has and knows what it takes, but someone who has a method and is willing and able to share it with others?
The origin of the vocal building technique began with a gentleman named Gary Catano though whom a wide range of creative people have fortified their vocal instruments, from singers Seal and Mariah Carey to actors Angelina Jolie and George Clooney, even former President Bill Clinton. While living in Japan, Maxayn became one of only two other people certified to teach "The Catano Method," but developed her own method, "The Max Factor," that goes a great deal further and is helpful to a wider range of individuals seeking to strengthen their voices and communication skills. "The original method gets you ready to sing," Maxayn shares, "but I added the mechanics of singing which teach you how to drive that new Ferrari you have throttling in your throat!" Maxayn targeted behind-the-scenes professionals such as voice-over actors and session singers, plus became a godsend to production companies by helping them cultivate the vocal prowess of the aspiring superstars of tomorrow.
"Most people only use 30% of their voice," Maxayn explains. "They have no idea how to access the rest, which creates inconsistencies of tone and a breach of confidence in anyone who uses their voice for work. I deal with breathing and how to position your body to respond in a concerted way. This way the entirety of your voice comes to the forefront - delivering the full impact of your message to the listener. I also get into the specifics of how to work with those ultra-sensitive $10,000 microphones that are used in the world's finest recording facilities. But the most important thing is "The Max Factor" liberates you to enjoy your voice – singing or otherwise – and just have fun with it!"
Maxayn has had her share of fun as a singer, be it on concert stages or as the voice heard only at one of the highest player levels of the video games "Metal Gear I, II and III!" She also found herself on a Jermaine Dupri -produced session for pop tart Britney Spears. Beyond supporting the music of others, she recorded three albums as the leader of a funk-rock fusion quartet called – what else – Maxayn. The group consists of Maxayn as lead singer and keyboardist, Andre Lewis on organ and bass, Marlo Henderson on guitar, and Emilio Thomas on drums. Though the band has been dormant for quite some time, they recently reunited with the intention of releasing a new album in 2009 – thrilling news for the pioneering Black Rock Hall of Fame foursome's longtime fans.
Always one to keep up with the times, Maxayn has never let the grass grow beneath her feet. In addition to teaching her "Method" students and rehearsing the band, she created "Vox Box," a music program for children in Japan ages 6-12 who want to sing and learn more about music. She's been a co-writer on songs for Earth Wind & Fire and Greg Phillinganes, and was a background vocalist on Franki Valli's chart-topping novelty hit "Grease" (from the film of the same name). Most recently, Maxayn was featured on rock ..n roll legend Jerry Lee Lewis' critically acclaimed 2007 CD, Last Man Standing, gracing The Killer's take on the Jimmy Reed classic "Bright Lights, Big City."
Summing up her enviable career as a vocal entrepreneur, Maxayn concludes, "It's been a wild ride…but I still feel as though I'm just getting started - building a world of song… one voice at a time!"
MORE INFO:
www.myspace.com/maxaynlewis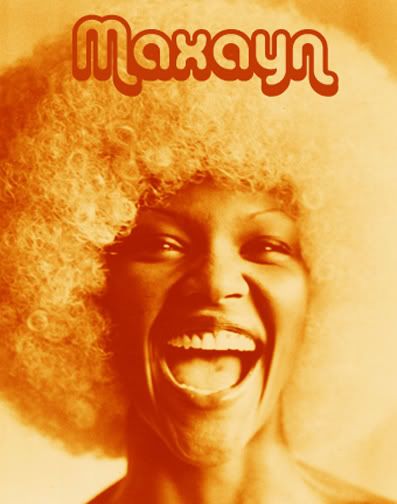 YouTube video (Live on Soul Train)
http://www.youtube.com/watch?v=gvyhKN5aJ5c